Views:
947

Times: 150 mins
About this Course
As for orthopedic treatment of the mandible, condyle, coronoid process, the anterior surface of the ramus, mandibular angle, alveolar bone, and chin are the areas easier to be modified through orthopedic treatment. These are also the reconstruction areas of Class II malocclusion after orthopedic treatment. The mechanism of growth modification in Class II can be attributed to growth of mandible, especially the condyle, advancement of mandible, anterior movement of the mandibular dentition, and restraining the maxilla and maxillary teeth.

Benefits for learners:
· Latest evidence-based clinical case analysis
· Continued professional development and learning
· IOF Certificate of Completion
· Management of patients with orthodontic disorders
What will you learn?
1. What are the key factors in the 2-phase treatment of Class II and Class III malocclusions?
2. What are key symptoms to initiate early treatment of Class II malocclusions?
3. Assessment of the efficacy of the Herbst appliance in treating Class II malocclusions
4. How to manage anterior proclination caused by tooth-supported mandibular advancement appliances?
5. Timing and stability assessment of maxillary protraction with facemask therapy
6. How to choose between molar distalization and premolar extraction for the treatment of Class III malocclusions?
&nbsp Course Details
Course Duration:
150 minutes
Language:
English & Chinese
Overview
- All dentists, especially for orthodontists are eligible to take the course.
How does the course work?
- To obtain your IOF Certificate of Completion, you should watch the whole course.
Minimum system requirements
- Windows 7 and above, Mac OS X v10 or later, Linux-Chrome OS Internet Explorer 9 and above; Google Chrome; Safari and Firefox
Schedule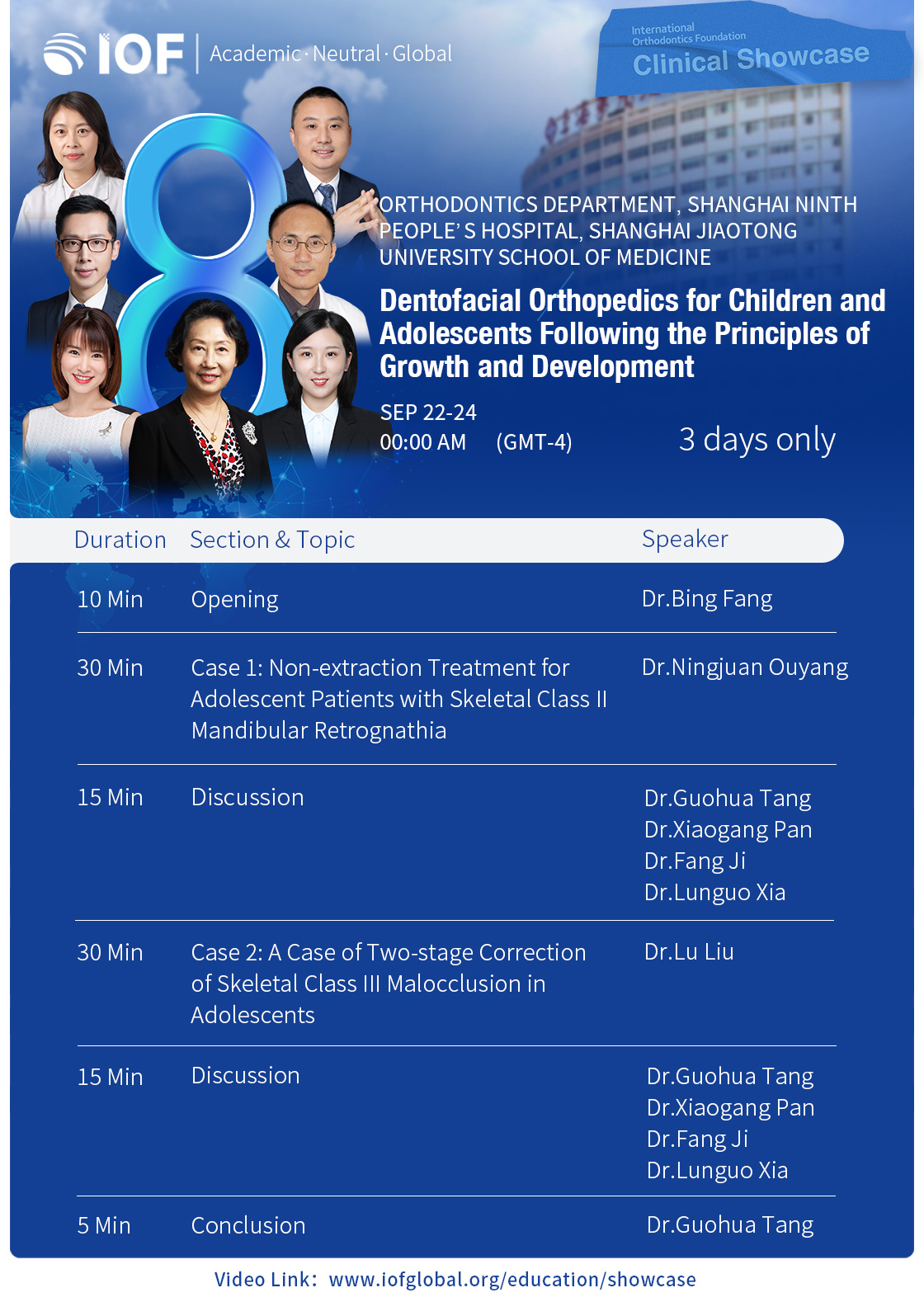 Please complete the information and watch the live broadcast.